Looking for wooden sliding door repairs in Sydney? Wooden sliding doors are a little bit more exclusive compared to the traditional aluminium sliding door repairs. And it goes without saying.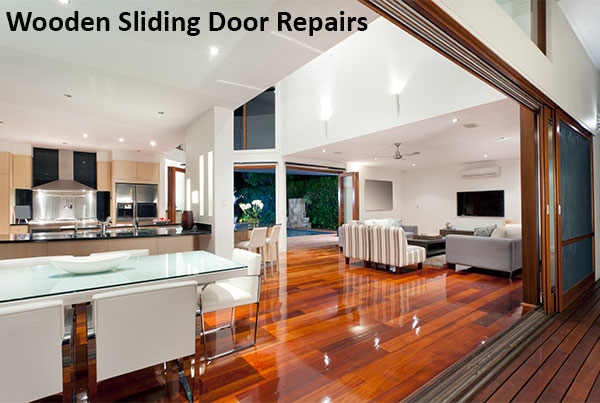 We get a lot of wooden door repairs in the Sydney region.
Challenges with repairing wooden sliding doors
One of the most common elements with wooden sliding doors is the fact that they are very heavy.
Now normally wooden sliding doors have a massive glass panel, but they're surrounded by beautiful wood frame and it is because these wooden doors are so heavy that extra precaution and safety measures need to be put into place.
The reality is some of these wooden sliding doors can buckle over time. They could have water damage and as a result, any sort of movement and bumping could actually break the glass and cause a dangerous situation.
Wooden sliding door track replacement.
As mentioned above, the fact is wooden doors are very heavy and as a result, these heavy wooden doors place a lot of pressure on the sliding door tracks. And as it is a moving part, over time these become damaged.
And depending on how heavy the door is, can actually break away and main the door does not slide at all.
But we do have good news for you.
Repairing wooden sliding door tracks is something that we've been doing for over 25 years and can certainly repair the track on your door.
But what you will need to know is that we completely machine back your original track and place a new stainless steel metal track over the top to make it super smooth and easy to move with your little finger.
This new Aluminium sliding door track won't rust and it will allow your door to slide like new again for many years to come. And we provide a warranty on that.
Wooden sliding door roller repairs.
Once again, due to the weight of a wooden door, the wood and glass are so heavy, the rollers get damaged over time.
In fact, we've repaired hundreds of wooden sliding doors where the rollers have completely disintegrated.
The weight of the door is way too heavy for the size of the roller that was initially installed.
The good news is we have heavy-duty sliding door rollers we custom fit to the exact track for your door. So, when we repair your sliding door tracks, we make sure the width of the track matches your heavy-duty rollers perfectly.
We'll even show you the style of rollers we use so you can see exactly why the existing ones we're breaking down and why the new ones will last for many years to come.
High-quality sliding door rollers are standard when we fix your door
The worst thing people do is skimp on the sliding door rollers and try and get the cheapest ones available.
You do not want to do that with the rollers. You want to get the highest quality rollers that can handle the weight of your door.
Wooden sliding door maintenance tips
Once we have finished and completed your door repair, we guarantee you'll be able to open and close it with your little finger.
We'll also run through some of the critical maintenance tips for you and your family so you can enjoy a smoothly rolling door for many years to come.
While these maintenance tips are simple and easy to implement, they will add a lot of quality and value to the length of your door repair.
Servicing the greater Sydney area for wooden sliding door repairs
We are able to service your wooden sliding door repairs anywhere in Sydney.
We go from Paramatta to the Northern Beaches, Bondi Junction and all the way out to the Blue Mountains as well.
We are based in and around the Hills District and we cover a lot of jobs in the Hills District, Castle Hill, Baulkham Hills, Kellyville, Bella Vista, and Parramatta. So give the add safe doors team a call today and we look forward to speaking to you about your wooden sliding door repairs.